ENTER ART PROGRAM 2022
TALES OF LOVE AND FIGHT
A Space of Intimacy
Installations, scenography and Performances
Conceptualised and curated by Irene Campolmi
Generously sponsored by Statens Kunstfond, Augustinus Fonden and Ny Carlsberg Fondet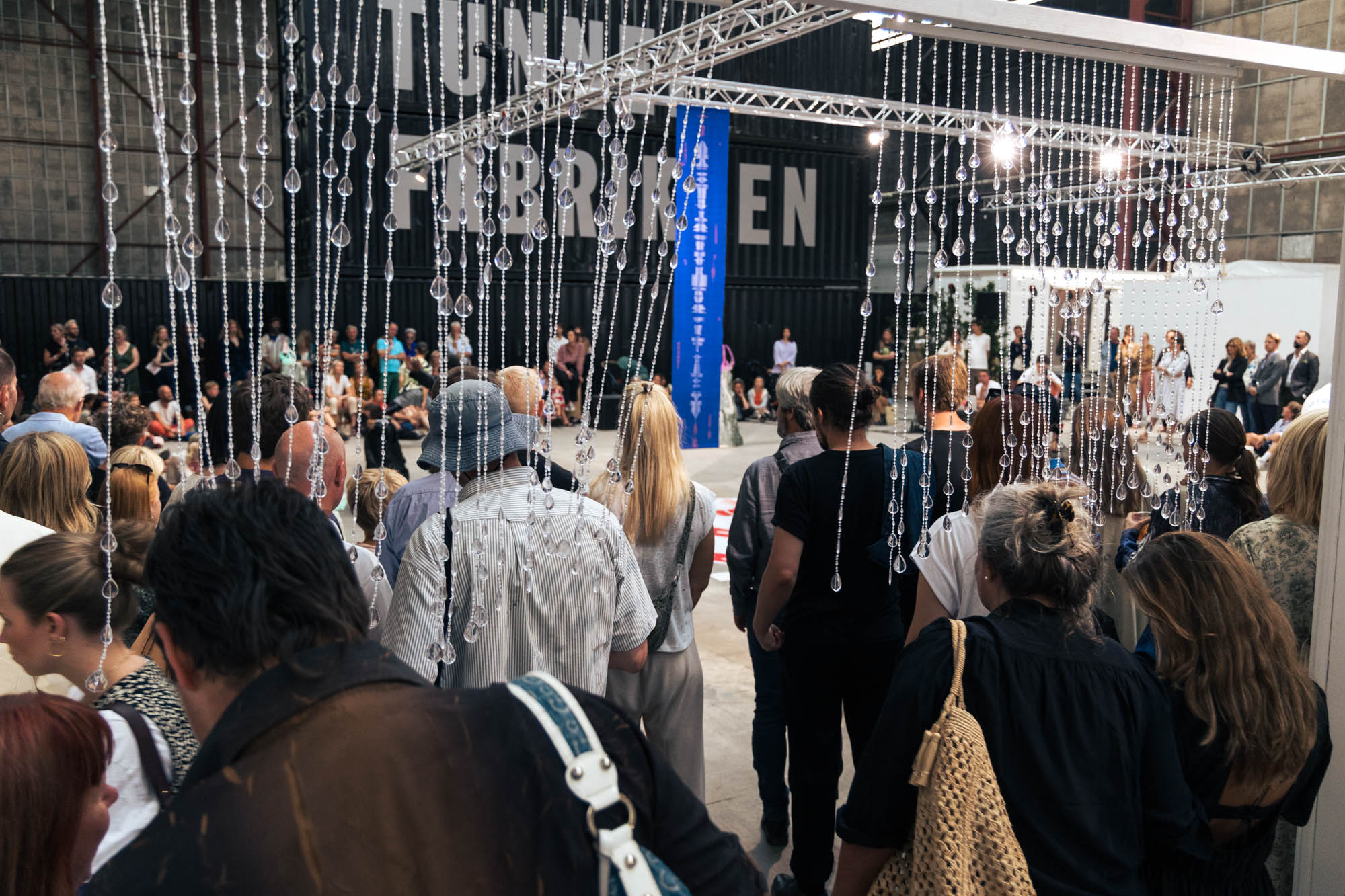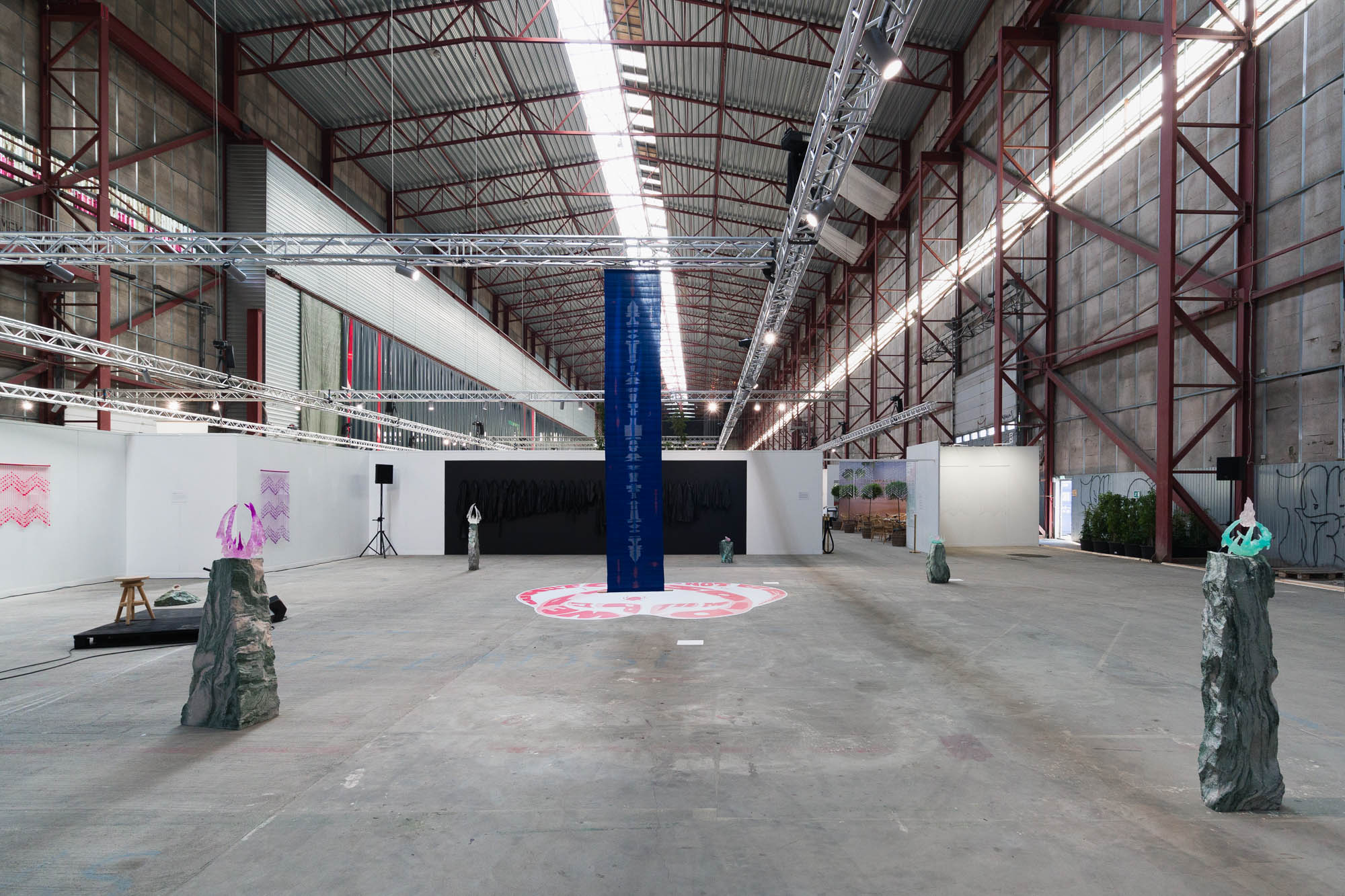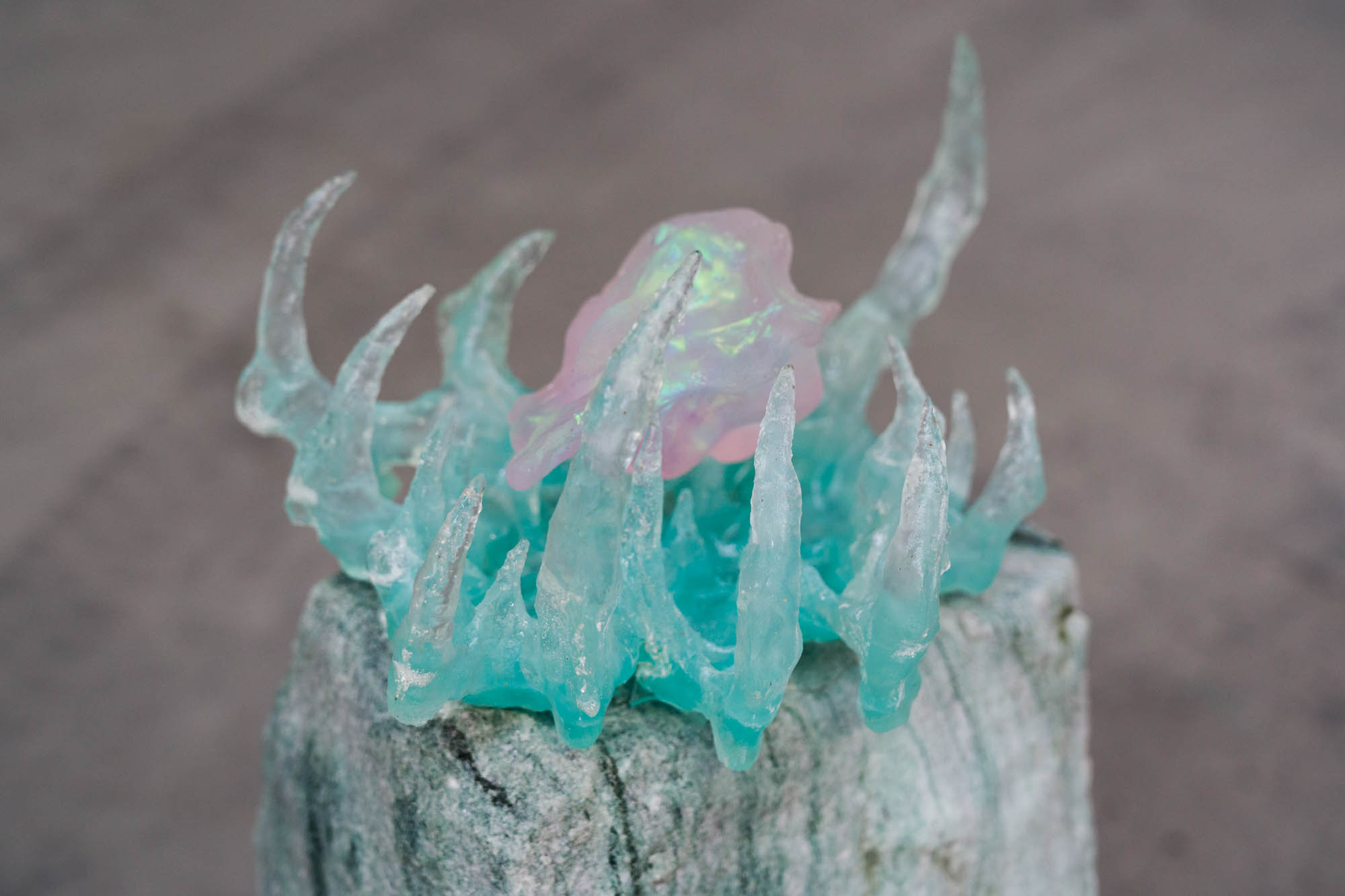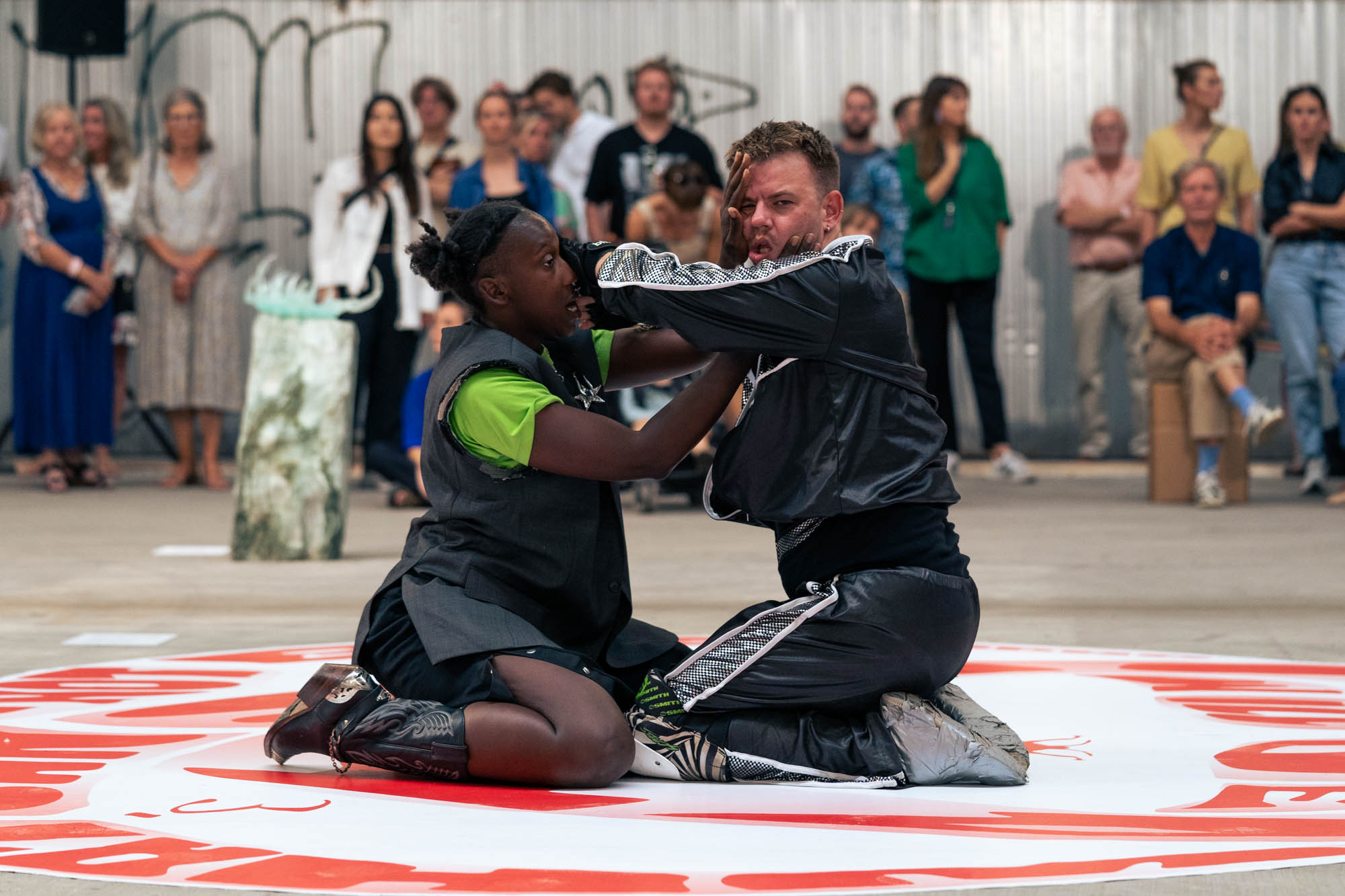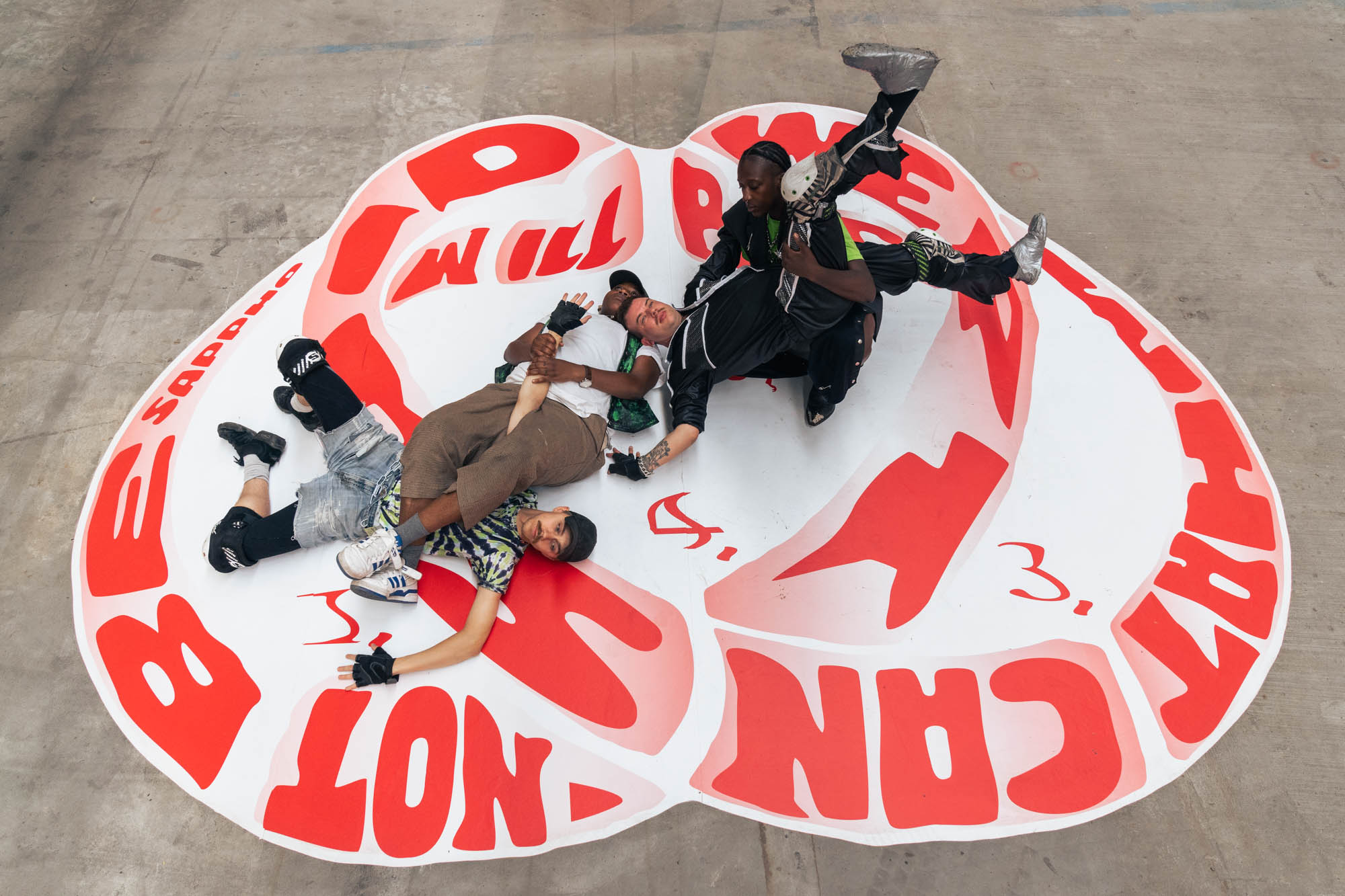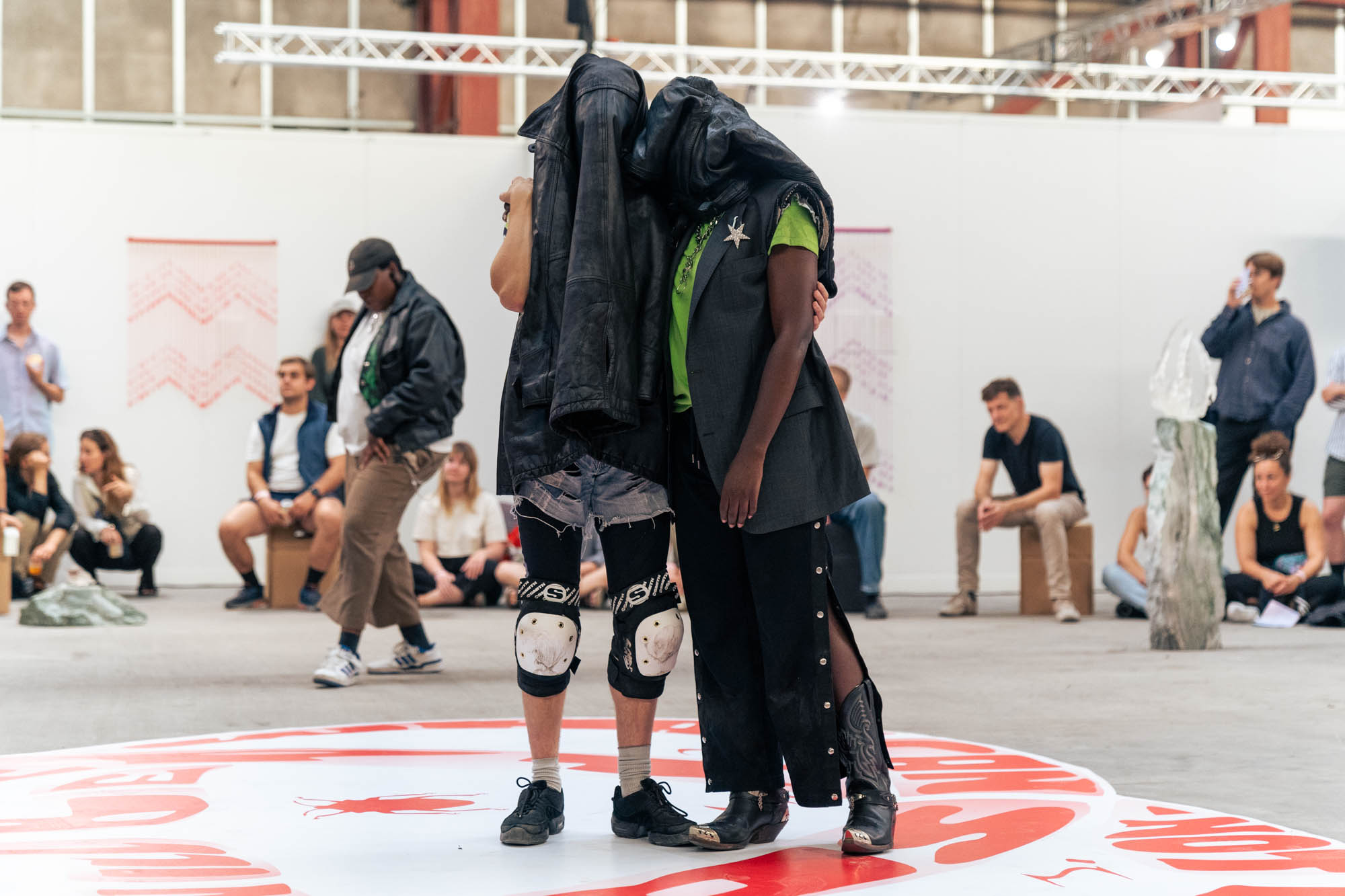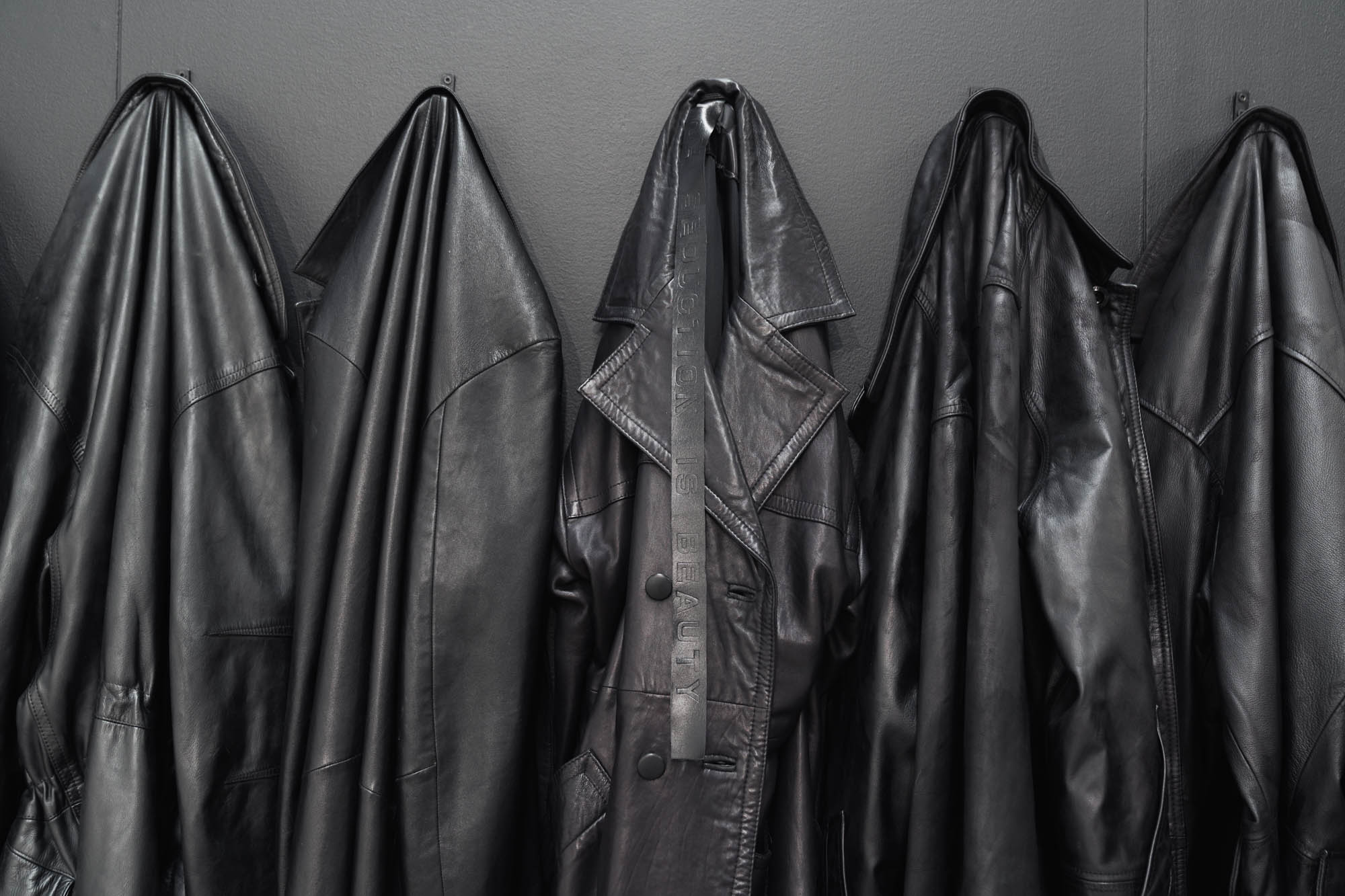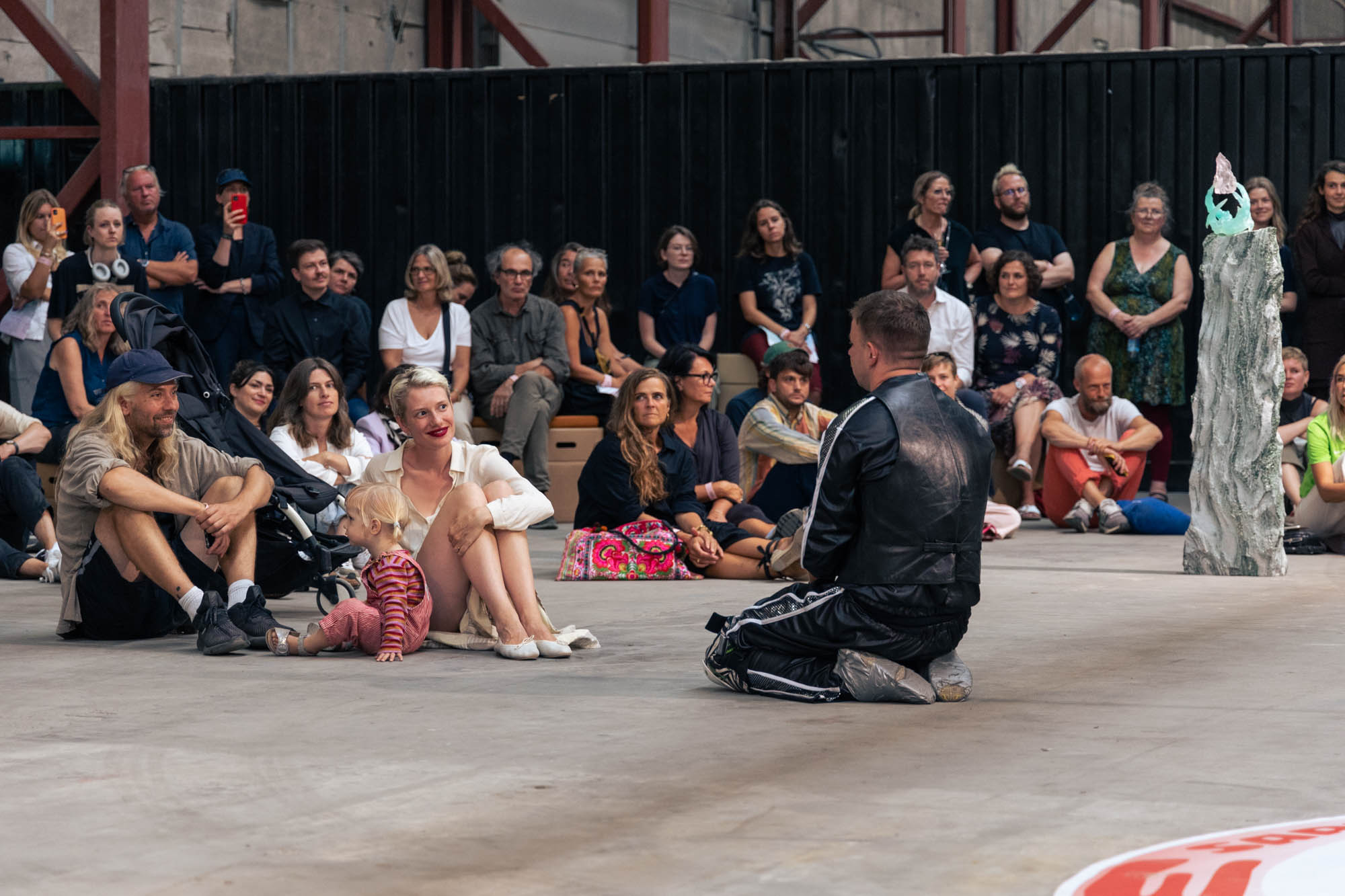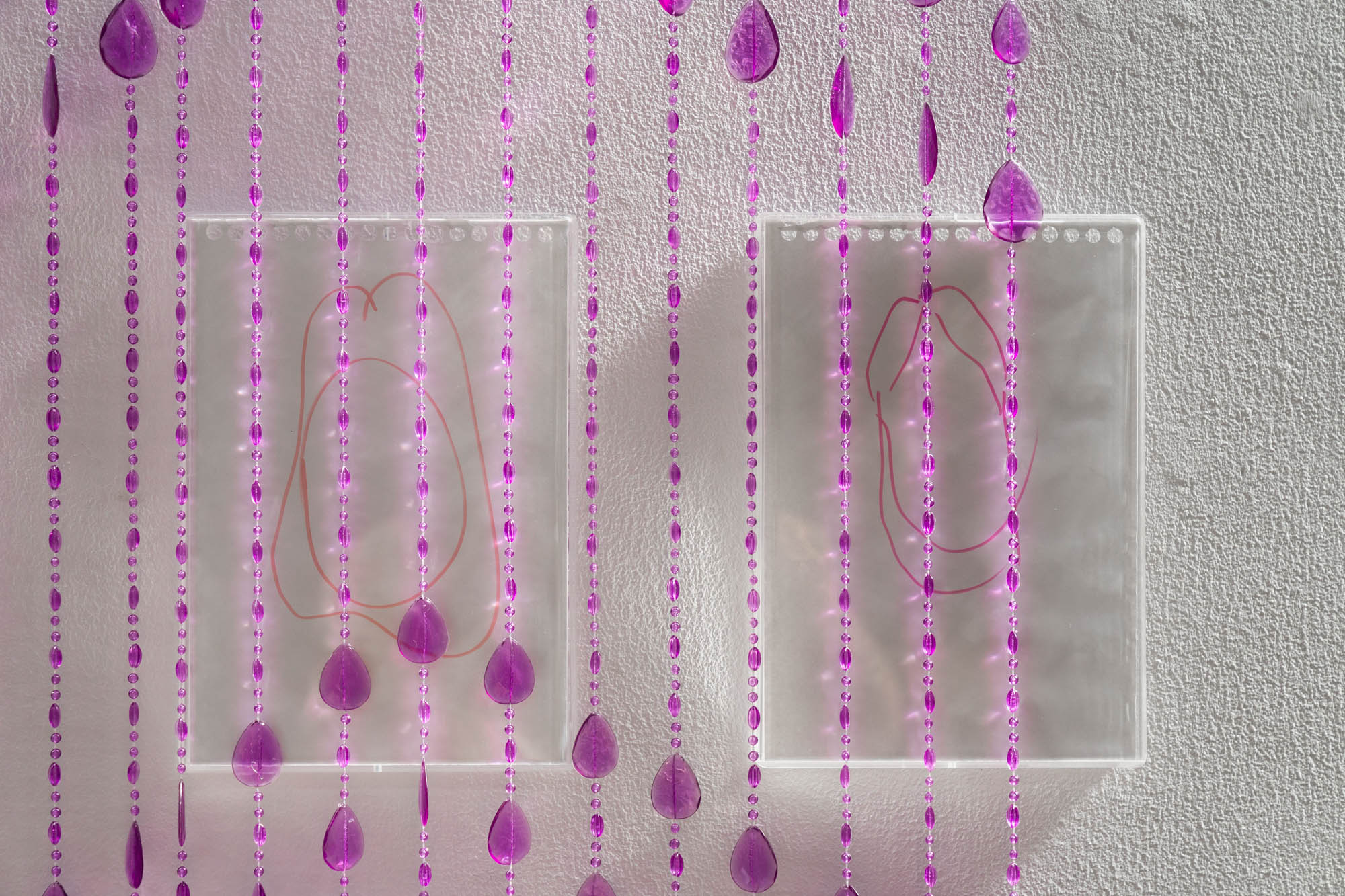 CURATORIAL CONCEPT:
TALES OF LOVE AND FIGHT  is a Gesamtkunstwerk, an immersive total work of art which consists in three larger art installations (a sound work, a series of sculptures and a series of costumes) that function in the Enter Art Programme section both as an exhibition and as a scenography for a performance that will be ongoing every day during the program.
TALES OF LOVE AND FIGHT is an experimental work where performance artists, painters, sculptors, sound artists and musicians will each contribute with a working proposition to the Art Program, creating a piece that stands in between a theatrical play, a durational performance and an exhibition, which could be visited onsite for the whole duration of the fair. While once a day, the space will function as a scenography for the performance, the rest of the opening hours, the same space will be a 'stage' where the visitors will act as 'performers' as a replacement of their absence.
VISION:
TALES OF LOVE AND FIGHT is the title of the 2022 live art program conceptualised and curated by Irene Campolmi for the fourth edition of Enter Art Fair, the first art fair proposing a live art program of performances, music, sound installations and talks that is shaped around the practice of emerging and mid-career artists' research.
A SPACE OF INTIMACY
Enter Art Fair is proud to launch and promote the project: "A SPACE OF INTIMACY", which is the name where the Art Program takes place physically. It is a space of alterity separated but connected to the main fair, where emerging and mid-career artists are invited to present. Located at the outskirt of the fair structure as an of 'hortus conclusus' – a confined space – artists and audiences test and thus reflect on forms of intimacy and body proximity coexisting with the pandemic threat.
In the post-pandemic world, where the social choreography of bodies moving in the space and interacting one with each other is limited, performance as artistic research becomes a fundamental means to explore the process rather than the product of artistic production.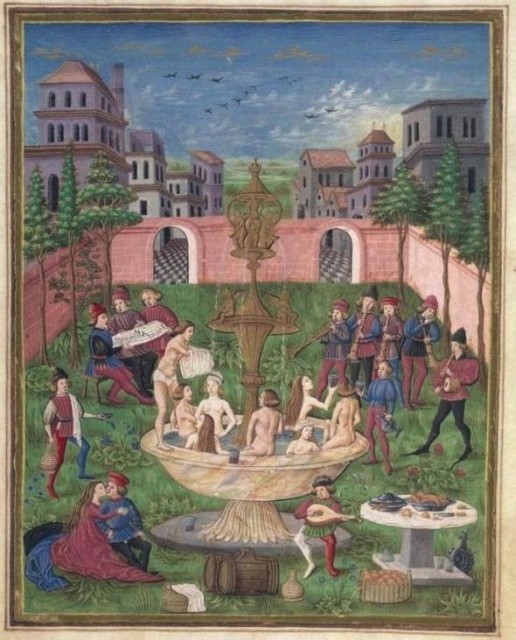 Lombard school (perhaps from De Seta), Ms. Lat. 209 DX2 14 c. 10 r codex De Sphaera: the Garden of Love or Hortus with the fountain of youth, 16th cent. XV, Miniature, Estense Library Modena
ENTER's free guided tours of the Art Program
See the schedule for free guided tours her:
Permanent Works
Exhibitions and Scenography by:
Davide Stucchi (IT)
Louka Anargyros (FR)
Dina El Kaisy Friemuth (GE)
Ava Samii (DK)
Himali Singh Soin (IN/UK)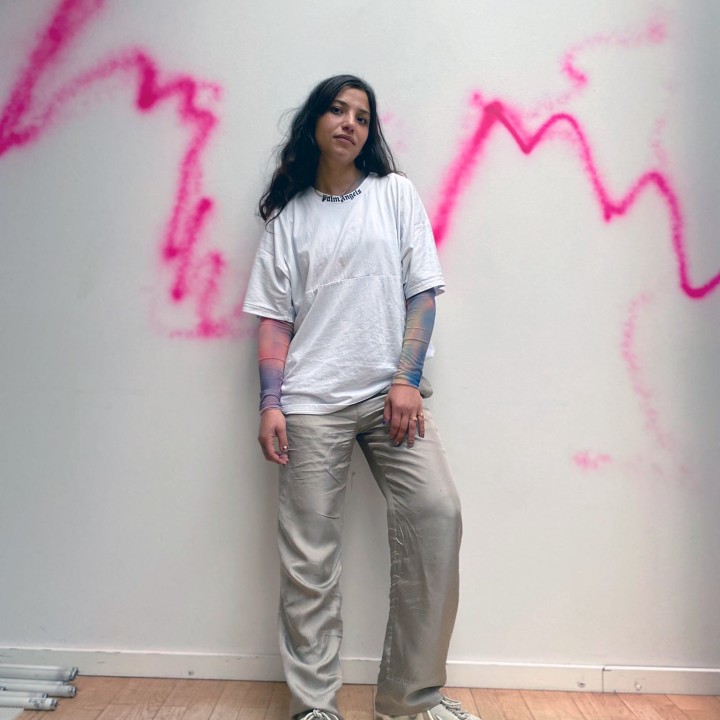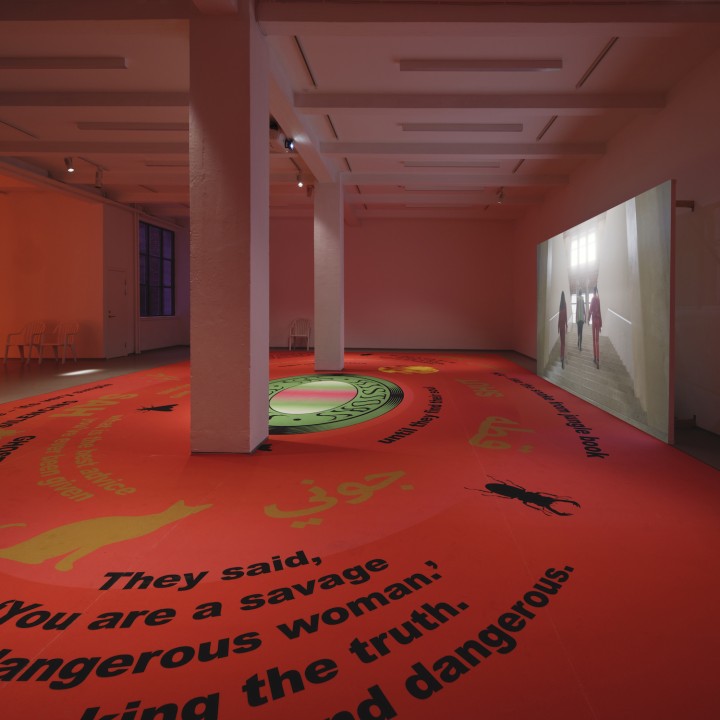 1) Portrait of Dina El Kaisy Friemuth, Photo by Xuan Ngyen
2) Dina El Kaisay Friemuth. Enter Art Fair Art Program 2022. Photo by Julie Nymann
Artists and Artworks:
New production based on No History at All, 2021 by Dina El Kaisy Friemuth (DK)
Dina El Kaisy Friemuth (b. 1988) lives and works in Berlin and Copenhagen. In their current work, El Kaisy Friemuth has set out to investigate the politics implicated in history writing and archiving through looking at the Egyptian collection at Neues Museum in Berlin, a place Dina has visited since their childhood together with their mother, a former tourist guide in Egypt. By juxtaposing the museums grand storytelling with feminist gatherings and personal storytelling El Kaisy Friemuth asks if the power structures implicated in history writing in itself is an imperialistic practice and whether there should be a completely different way of worshiping and archiving.
Dina El Kaisy Friemuth works with the complexity of collectivity and belonging. Their practice revolves around creating conversational environments, centering queer and racialised voices, and decolonial and institutional critiques. Their practice is manifold, often in collaboration with other cultural workers, and involves both curating, writing, teaching, installation and video works.
Their contribution for Enter Art Program 2022, takes inspiration from their project No History at All which presented a series of panel discussions and talks taking place on a carpet. As a kind of decolonial evasive maneuver, No History at All investigates alternatives for history writing by animating the Egyptian artifacts through personal stories and visual works rather than presenting them as lifeless and fixed objects in vitrines.
1) Portrait of Davide Stucchi. Photo by Vladyslav Tomik
2) Davide Stucchi, Falli, 2021. Installation view at Martina Simeti, Milano. Photo by Andrea Rossetti
New Production based on Falli (Phalluses) Curtains' serie, 2022 by Davide Stucchi (ITA)
Davide Stucchi (b. 1988), lives and works in Milan. Davide Stucchi draws from everyday life to investigate intimacy and feelings that materialize in space as psychic dimensions. Referring to a system of objects that imply the presence of individuals, the artist stages affective and material absences, through choreographies of volumes, lights and sounds. He observes and studies the body by representing it in the smallest terms, paying attention to the traces it emanates or to the codes – including clothing – that distinguish it.
Falli (Phalluses), Stucchi's project on which is based this new production, embodies an ironic and cultured exercise on the theme of desire, on form and on the idea of ​​waiting. The sketches are sometimes abstract, other times more descriptive but in any case, they express the formal ambiguity of bodies, sexual organs, orifices that playfully transform (or reveal) other forms: writings, fashion figures, lingerie or anthropomorphic subjects. The rapid execution of those drawings seems to allude to the almost unconscious expression of a sketch made on the telephone, to the automatic writing of desire which, starting from the primordial phallic form, manifests itself in a thousand other possible declinations and narrative levels. Stucchi works using a broad set of media and creates, within the space that houses his interventions, a subtle and highly calibrated dialogue around signs. Through the juxtaposition of different elements, Stucchi's work evokes specific imaginaries ranging from the relationship between individuals to autobiographical elements, to the relationship with the culture of fashion and the bodies it wears.
1) Portrait of Louka Anargyros, Photo by Casper Cosmus Alsøe
2) Louka Anargyros, Enter Art Fair Art Program 2022, Photo by Julie Nymann
Now there is a master scenario available to everyone. The colour is black, the material is leather, the seduction is beauty, the justification is honesty, the aim is ecstasy, the fantasy is death, 2022 by Louka Anargyros
Louka Anargyros (b. 1992) lives and works between Copenhagen and Paris. His practice as an artist is primarily sculptural. While his work can often be seen as conceptual and contextual, with theoretical research in the fields of body politics, sociology and philosophy forming an important part of his practice, his main driving force remains the physical relationship with materials and forms. In recent years, he has focused on pushing the boundaries of his ceramic technique, often spending months working on a single sculpture. His work frequently depicts human vulnerability and examines identity and intimacy, often using, indirectly or not, personal elements of his life as material. Queer politics, exile, and intergenerational trauma are ongoing research topics that Louka addresses through the lens of bodily experience.
1) Himali Singh Soin, 'The Particle and the Wave, 2015, Photo by Mimosa House
2) Himal Singh Soin, Enter Art Fair Art Program 2022, photo by Julie Nymann.
Mountain, Pixelated In The Water, 2021 by Himali Singh Soin (IN/UK)
Himali Singh Soin is a writer and artist based between London and Delhi. She uses metaphors from outer space and the natural environment to construct imaginary cosmologies of interferences, entanglements, deep voids, debris, delays, alienation, distance and intimacy. In doing this, she thinks through ecological loss, and the loss of home, seeking shelter somewhere in the radicality of love. Her speculations are performed in audio-visual, immersive environments.
Mountain, Pixelated In The Water is possibly one of the longest single design Ikat pieces to have ever been made in India, this new tapestry charts the sound waves of ice crystals smashing into each other, and the various histories of south asians, freaks, and exotic others at the Poles. While Ikat is an old and traditional weave, it appears pixelated, glitchy, embodying the digital distance of alien sightings at the poles. The color combination invokes the colonial histories of indigo, the peaceful resistance of Gandhian cotton, ahimsa (non-violent) silk that protects the silkworm, and the archeological color of terracotta and belonging. It took 8 months for master Gajam Govardhan to complete 20 pieces over a 280 foot long loom, in Andhra Pradesh, a project that supported his community during a year of lost work.
Antarctica Was A Queer Rave Before It Got Busted By Colonial White Farts traces the history of conjecture and how Antarctica was hypothesized to exist. It recounts, in a non-linear fashion, the western imagination of the savage underworld, an imagination largely based on projection and fear. It turns this same imagination into a utopian desire: a place not populated by horrific freaks with malformed bodies and exquisite tentacles, but free from the normative conditioning of convention and straightness, free from the grids of the map as it dissolves into mists and fog. The music is analogue and recorded rogue, an acoustic rendering of EDM and 90's rave beats. By recording single-track, on an acoustic drum set, David Soin Tappeser subverts, emulates and pays homage to contemporary queer party culture.
1) Artwork by Ava Samii. Enter Art Fair Art Program 2022. Photo by Julie Nymann.
2) Artwork by Ava Samii. Enter Art Fair Art program 2022. Photo by David Stjernholm
Promises Of Enlightenment, 2022 by Ava Samii
Ava Samii (b.1990) is a Danish artist. Through media as sculpture, performance and installation, Ava Samii creates a realization of fictional narratives and scenes that revolve around alternative directions of evolution, mythology and hybrids between the recognizable and the unknown. The works act as props and a kind of testimony from a dream or parallel world, where the working process becomes the interpretive link between fiction and reality.
The process of creating the work is an important part of an ongoing narrative that is constantly expanding and in motion. By pushing the materials to the limit, while at the same time letting go of control over the construction's goals and balance, sometimes collapse or new possibilities occur and a negotiating dialogue occurs between the work and its intended direction and narrative.
This new series of sculptures expand the research that Ava Samii has been carrying since last year, questioning what shapes, objects, functions or materials lures the human gaze. Investigating how mythologies and stories are linked to what is recognized as alluring or desirable, while trying to disconnect it from the human narrative of beauty, Samii's work investigates beauty as a matter of gaze.
Performance
 "It doesn't look like anything to me"
Total artwork between visual artist JULES FISCHER (DK) and musician and composer JOSEFINE OPSAHL (DK)
with performers BECK HEIBERG, SALL LAM TORO, ANDREAS HAGLUND AND JUPITER CHILD and with cellist HRAFNHILDUR MARTA GUðMUNDSDÓTTIR
Time Tables:
Thursday, August 25th: 18.00
Friday, August 26th: 18.00
Saturday, August 27th: 16.00
Sunday, August 28th: 16.00
Meeting point: 
Entrance between the fair and the Art Program Area, Enter Art Fair, Tunnelfabrikken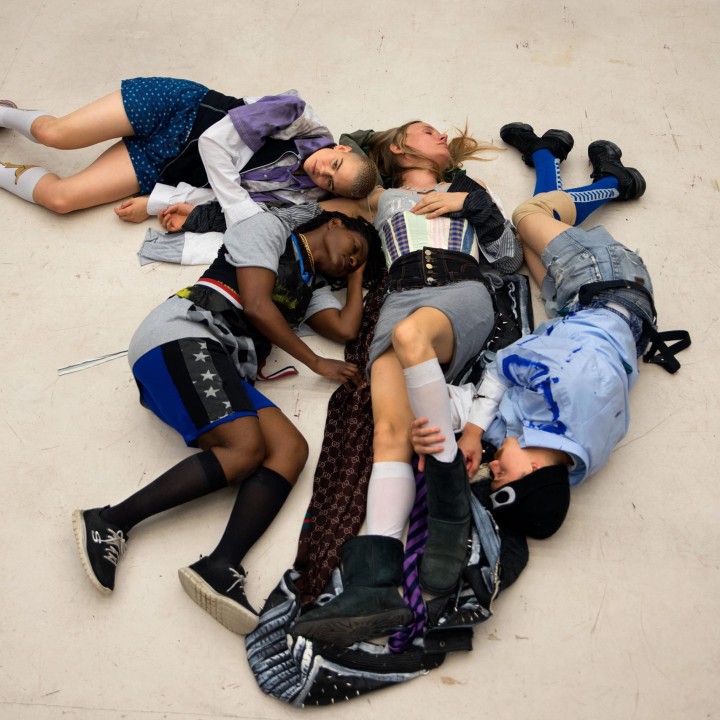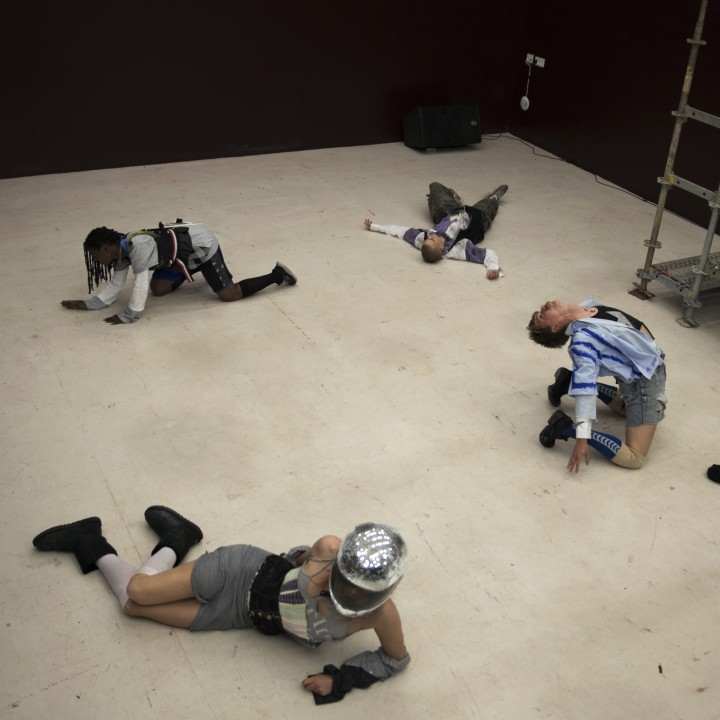 1 Enter Art Fair Art Program 2022, Photo by Julie Nymann
2 Enter Art Fair Art Program 2022, Photo by Julie Nymann
About the Performance:
The title refers to the sci-fi series Westworld. The phrase is a fail-save response to encounters which make the hosts (robots) question their own reality. In the setting of an Art Fair one might wonder who are hosts and who are guests?
The movement material is searching for vulnerability and softness in found material from sports, movies, folk dance and everyday gestures. The fragments are looped and mixed with phrases developed by the performers into a slow choreography. The piece is playing with ambivalence and illegibility as an escape from binaries while questioning hegemony is a "natural" trait.
Josefine re-worked the piece Drei Bewegungen des Elektrischen Körpers– in a 30 minute score for cello, electronics and voice – for Enter Art Fair.
"It doesn't look like anything to me" is an experiment combining two different practices and works into one as a curatorial choice.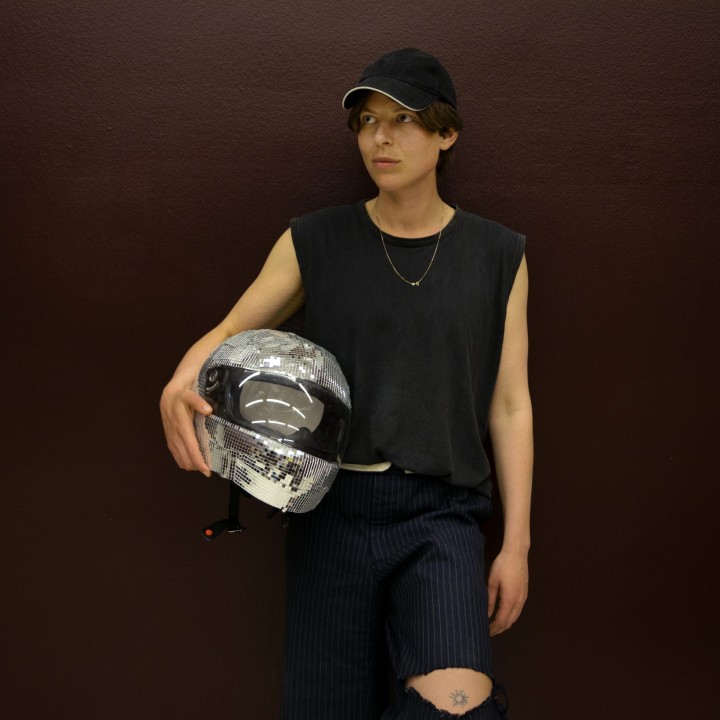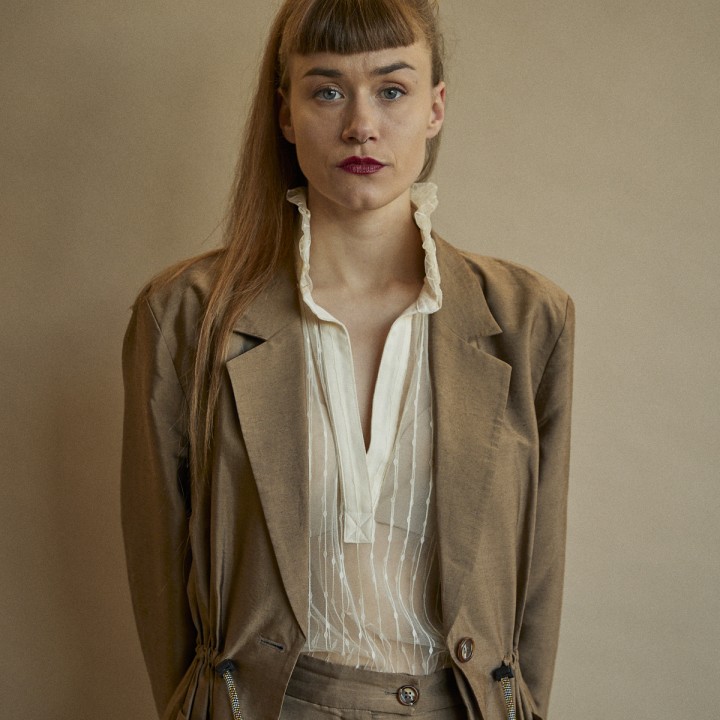 1 Portrait of visual artist Jules Fischer, Photo by Michella Bredahl
2 Portrait of musician and composer Josefine Opsahl, Photo by Sigvaldi
About the artists:
JULES FISCHER (DK)
Jules Fischer's practice is centered around large-scale performances and the love for immersive experiences that touches the viewer through a multitude of perspectives, senses and bodies. Jules is interested with basic feelings such as love, loneliness and grief, but always from an ambivalent and queer perspective. Community, how we find each other, what images we create and recognize, are recurring themes in their practice. Fischer has in collaborations with professional dancers and performers shown works at various art galleries and institutions, most recently at Glyptoteket and Den Frie Udstillingsbygning in Copenhagen.
Josefine Opsahl (DK)
With a liberating openness to sounds, genre, the use of electronics and her main instrument the cello Opshal's works unfold in the intersection between tradition and renewal, expertise and intuition, the score and the improvised in a search for where musical expression, art, society and we ourselves are headed as beings and creators. Opsahl connects music, art, performance and spaces in her works. At the core of her research lies a strong will for using her art to examine and rise ethical and social questions as also shows in her effort to share her thoughts and music across cultural and societal structures.
Credits to the Enter Art Program Staff for realising this year's project. In particular, thanks to Irene Campolmi (Head Art Program and Curator), Francesca Bonissone (Curatorial Assistant), Kristine Bech Sørensen (Head of Production), Erika Alm and Maria Bendixen (production assistants), Kunsthalle Trondheim and all the artists for their contribution.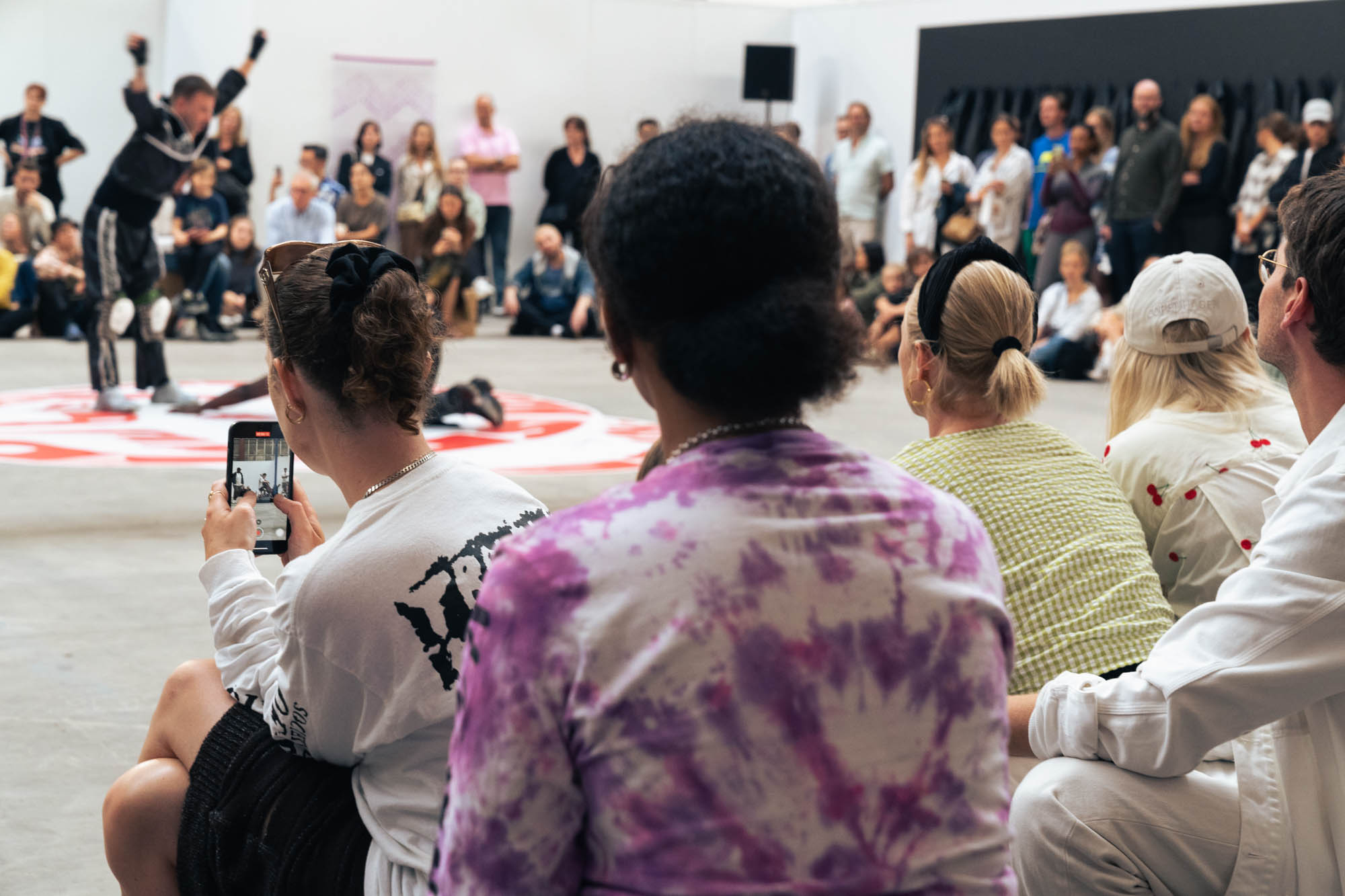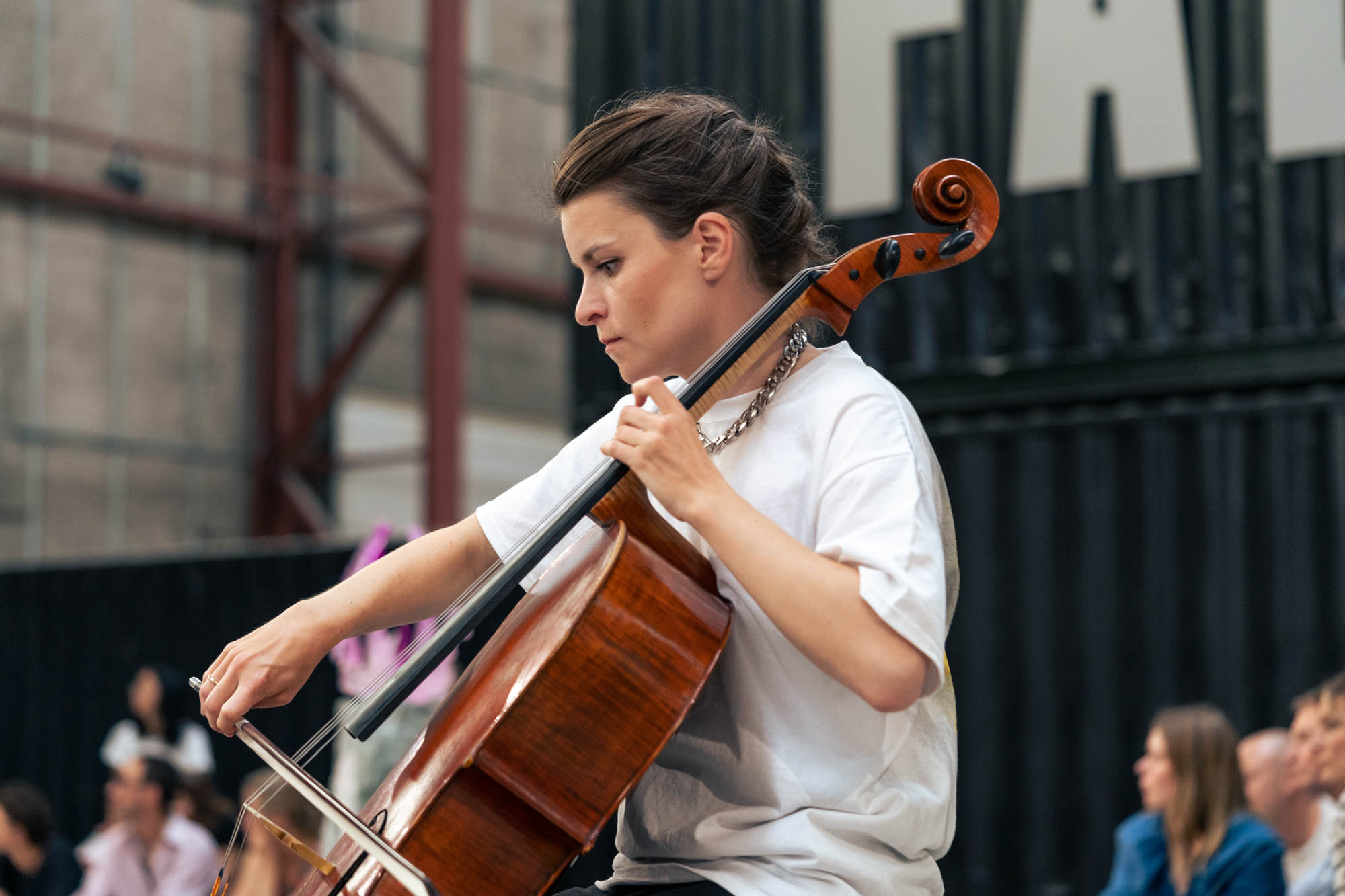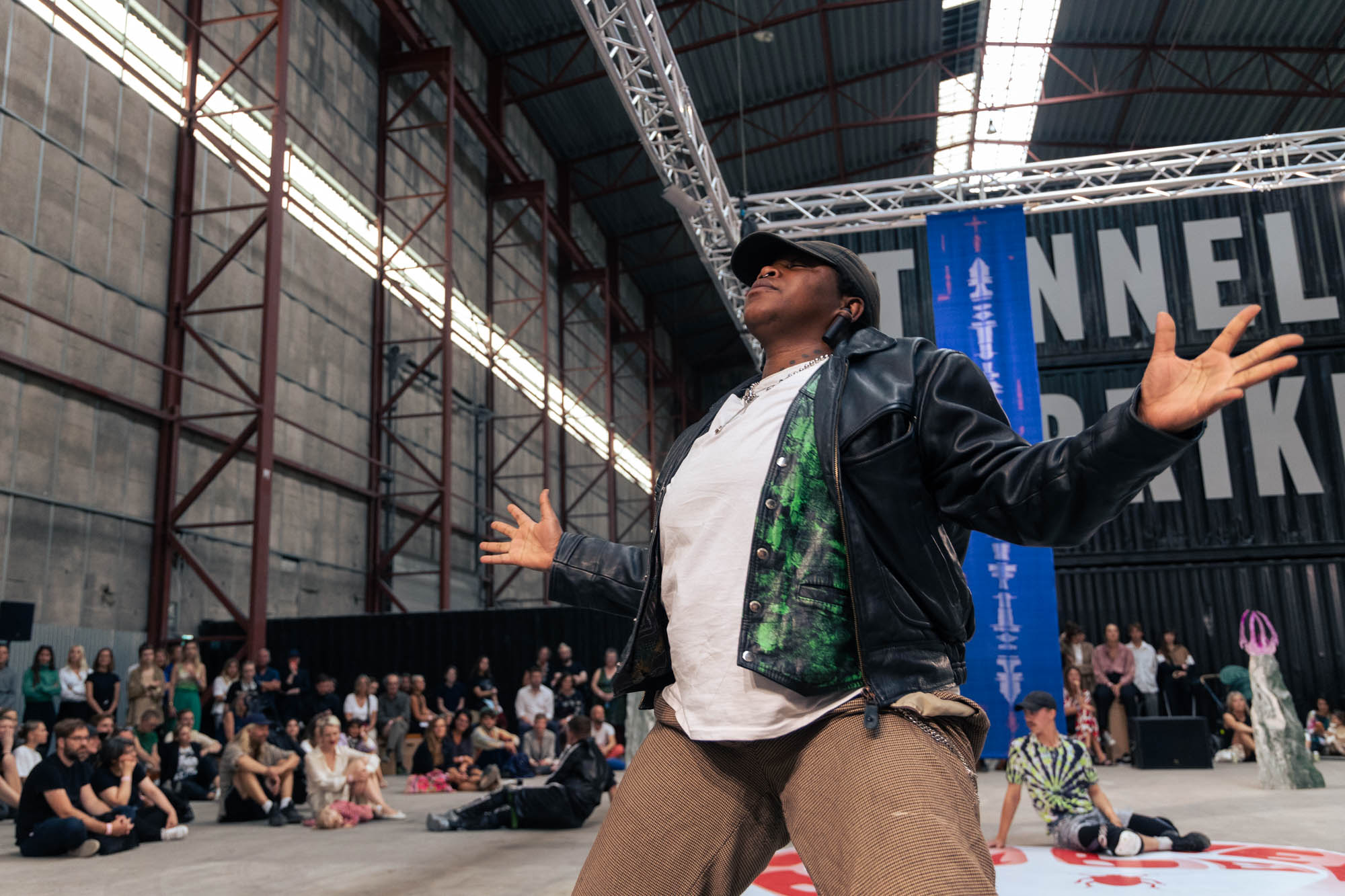 See content from the fair at previous years